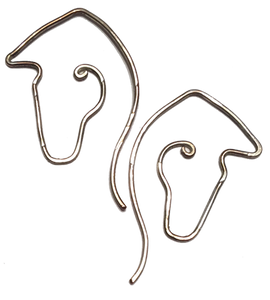 Equipoise Sterling Hammered Horse Earrings
Websters defines Equipoise as  1. an equal distribution of weight; even balance; equilibrium.
A horse with a finely arched neck is truly a thing of beauty, the result of perfect collection. I've hammered and twisted 20 gauge Sterling Silver wire into these perfectly balanced earrings. Show everyone your poise, how perfectly balanced you are, or just wear them for the love of horses. Either way, they are very lightweight and comfortable. 
Sterling Silver Earrings measure 2" long x 1.25" wide
Include silicone ear nuts for safety
Come ready for giving in a recycled, re-usable gift box with a woodland surprise. Also available in Copper for a different look.