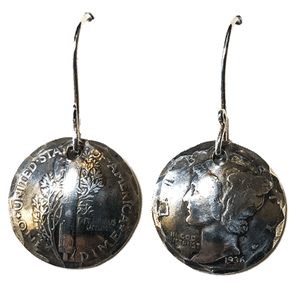 Mercury Dime Earrings 1944 ~ 1936
Don't you just love it when you find an old coin in your change? I still see wheat pennies pretty often, but I've never been lucky enough to find one of these. This is a pair of earrings made from two hammered US Winged Mercury Dimes.  Mercury dimes were designed in 1916 by Adoph Weinman, and were in circulation until 1945.
The Roman God Mercury was a messenger, and the god of trade and commerce.
What a cool way to bridge the gap of history between our Greatest Generation…our WWII Grandparents, and our forever text messaging youth of today!  Ok, maybe that's a stretch, but they still look great!
This particular pair are dated 1944 and 1936. The hammered edges catch the light like diamond cutting. The dimes have been slightly domed and are oxidized to bring out the texture and design.  Silver content in these dimes is 90%.  Super trendy asymmetric design too...one is the front of the dime, the other features the back. How cool is that?
They hang from handcrafted and polished Sterling Silver ear wires
Measure 1 ¼" long,  ¾" wide. 
Your earrings will arrive ready for giving in a beautiful recycled, reusable gift box with a West Virginia Mountain surprise.