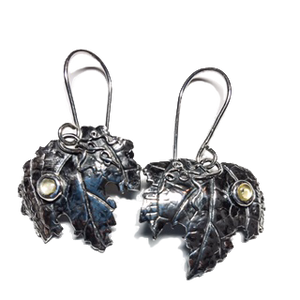 Pinot Grigio Citrine Earrings
I do know enough about wine to know I appreciate a nice,refreshing Pinot Grigio. I also know the color of the wine reminds me of a pale citrine, which happens to be a perfect color for fall accessorizing. These are made from real grape leaves plucked from my family's vines, although to be honest, they're not Pinot grapes. That's where I employ my artistic license...the citrines are real though!
Fine silver Grape Leaves measure 1.5" long x 1"wide
Hang from Handmade Sterling silver ear wires
Feature 3mm Citrine cabochons
They come ready for giving in a recycled, re-usable gift box with a little woodland surprise.