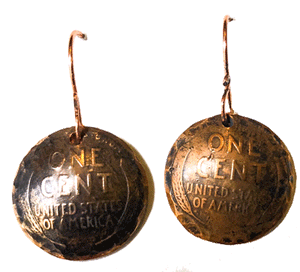 Wheat Penny Earrings 1925 ~ 1934
Do you closely inspect your coins when you get change? Isn't it fun when you get a cool old coin, like a wheat penny? I love to check out my change. I have $100 worth of Bicentennial quarters, but that's another story. Wheat pennies were first commissioned by President Teddy Roosevelt in 1909. The artist's name was Victor David Brenner. They were minted until 1958.
For these 1925 and 1934 pennies,  I've  hammered along the edges for a light catching effect.  Sort of looks like they've been diamond cut.  Then I dapped them for a slightly domed effect. They have a lovely copper patina and look great for coins over 80 years old.
 Pennies measure  ¾" diameter
Dangle 1 ¼ " from handcrafted copper ear wires
Sterling Silver ear wires available 
As always, your earrings will arrive ready for in a giving in a beautiful recycled, reusable gift box with a West Virginia mountain surprise