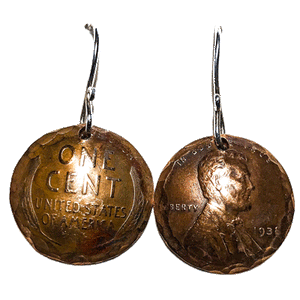 Wheat Penny Earrings 1938
Do you know someone that's turning 80 this year? These earrings are, and they look amazing! Isn't it fun when you get a cool old coin, like a wheat penny? I love to check out my change. Wheat pennies were first commissioned by President Teddy Roosevelt in 1909. The artist's name was Victor David Brenner. They were minted until 1958.
Fort this pair of 1938 pennies, I hammered along the edges for a light catching effect. Sort of looks like they've been diamond cut. I then dapped them for a slightly domed effect.  As with all copper, these pennies will patina with time. 
Pennies measure ¾" diameter
Hang 1 ¼ " from handcrafted Sterling Silver    
As always, your earrings will arrive ready for in a giving in a beautiful recycled, reusable gift box with a West Virginia mountain surprise